Online Blackjack Rules: Break Down of the Basics
The rules of Blackjack (a.k.a. Twenty One) are charmingly straightforward and once you've got the basics down (check below), you'll only have to acquaint yourself with the slight variations and possible side bets for each individual blackjack game.
In a traditional land-based casino, you will find multiple players sitting at a table, each one competing against the dealer (not against each other), with cards being dealt in a consecutive order from the dealer's left to their right. In an online blackjack casino, you can experience this setup in the live version, otherwise you'd have the virtual blackjack table all to yourself.

Intro to Online Blackjack
The game is played with one up to eight 52-card decks. In the online version, each card is randomly generated from a nearly infinite number of possible allocations, which simply means that popular advantage playing strategies such as counting are rendered futile.
The goal of blackjack is to beat the dealer (bust or break is the table lingo). The Holy Grail here is getting a blackjack, a two-card combo of an ace and a card with a 10-point value, counted as 21 points. This outranks all other hands. If, however, chance doesn't spoil you to a blackjack straightaway, you would be striving to get more points closer to the 21 threshold than the dealer's hand, without going over.
Here are the essential blackjack card rules:
Each card has a certain point value: 2s to 9s equal their pip value, 10s and face cards (Jacks, Queens and Kings) are counted as 10 points, and aces could be 1 or 11. The value of your hand is the sum of all your cards.
You start with making a bet. You are then dealt two cards face up, and the dealer is dealt two cards also, one face up and one face down (also called 'hole card'). They cannot peek yet.
Has the dealer a chance for a blackjack themselves, i.e. faceup card being an ace (not same if it's a 10-point card), you can make an additional 'insurance' bet worth half the original wager, that is optional but would allow you to enjoy a small win (payout 2:1), if cards favor the house.
As a standard, you have four options after your cards have been dealt:

Stand: you take no more cards.
Hit: you take another card.
Double: you double your bet and have one compulsory one-card draw.
Split: if you get a pair or two 10-point cards, you may separate your cards into two separate hands. Each hand automatically receives another card, except for aces where only one ace gets a card. If you get an ace and a 10-point card after splitting, it is merely counted as 21, not blackjack. Doubling after splitting and re-splitting are not not always allowed.
Surrender: You can keep half your wager and not play out your hand, if you're not happy with your odds. Not always available.

After you've made your choice (as well as the other players), the dealer turns over their hole card. If their hand's value is less than 16, they draw another card. In the case of a 'soft' 17 (an ace and a 6-point card), the dealer will either hit or stand, varying from casino to casino. If the dealer goes over 21, everyone on the table who hasn't busted yet wins. If they don't, you need to have a higher hand, i.e. more point than them, to beat them. If both yours and the dealer's hand are of the same value, the game results in a push and all side bets are resolved.
Keep an eye on:
Payouts Almost ubiquitously, winning wagers in blackjack have an even payout, with a blackjack hand traditionally paying out 3:2. Try to avoid online casinos that underpay blackjack. If they pay out 6:5, this would make a minor difference for a $20 wager and a much greater one for high-rolling ones.
Betting Limits Table limits, i.e. minimum and maximum wagers, are paramount to many players' decision where to gamble and are set by online blackjack casinos individually.
Topics Covered on This Page
Top Casino for Sep 2023
License:

Up to Date

Verified:

YES

Support:

Within 2 hours
Experts' Reviews
888 Casino Bonus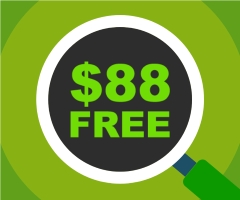 Compare The Best Online Casinos
CASINO
MIN DEPOSIT
MIN/MAX BET
BONUS
LIVE
RATING
VISIT
$10
$2/
$750
100% up to

$100

Yes

Review

VERIFIED

Visit
* 18+ New Casino customers only. Deposit min. 10$. Applies to first deposit to Casino only. Max. bonus 100$. 20x wagering (game weighting applies) on deposit and bonus to make the bonus balance withdrawable. Time limits and T&Cs apply. Gamble responsibly. www.begambleaware.org - Full Terms Apply
$25
$1/
$500

$7,777

Yes

Review

VERIFIED

Visit
$20
$2/
$750
100% up to

$800

Yes

Review

VERIFIED

Visit
House Edge and Rule Variations
Even though a blackjack casino's built-in advantage is generally low, it varies drastically depending on the rule variations introduced by each individual site. If you're a greenhorn just learning how to play blackjack, your rabbit ears should stretch up here. We break down blackjack rule variations into the ones that favor the gambler and the ones that favor the house, and naturally, each online blackjack casino has its own unique mix.
Rules that Favor the House:
More Decks
Dealer Hits on Soft 17
Payouts like 6:5
Rules that Favor the Blackjack Players:
Less Decks
Dealer Stands on Soft 17
Doubling After Splitting
Double Allowed Only on 10 and 11
Re-splitting Aces
Surrender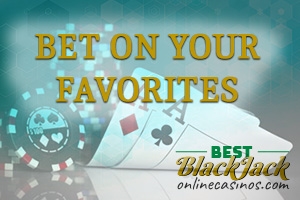 The Lure of Side Bets
In all likelihood, your online blackjack casino will offer you a number of possible side bets which give you a chance to make something extra if you feel empowered to trust your luck. Of course, this also favors their pocket, as side bets generally have a much higher house edge. There is a great and growing variety of blackjack side bets out there, though not all stick around and only a few have become a staple. Such is the case with 'Perfect Pairs' and 21+3.
Get a Kick Out of It
Learning the rules of blackjack is a cakewalk, and once you have them down, you will find even greater delight in developing strategies [link to strategy] to bust the house. There is such an amazing variety of blackjack card rule variations and possible side bets at the different online blackjack casinos that you may end up with no two blackjack game experiences alike. Happy maneuvering!