21 Duel Blackjack Game Review
21 Duel Blackjack is a more dynamic and fun alternative to online blackjack games that revolve around a side bet. It is a combination of regular Blackjack and the poker classic Texas Hold'Em. In this game variation, player and dealer face off in an attempt to get the coveted 21 while using communal cards, just like in poker.

Rules of 21 Duel Blackjack
We outline the basic 21 Duel Blackjack rules based on the popular Playtech version that largely occupies the virtual space due to its great graphics, customizable settings and a comprehensive help section for your convenience. Plus, we like it because it's faultlessly optimized for mobile!
Now, let us guide you carefully through each step of the 21 Duel Blackjack. To illustrate, we have used screenshot of an example game round on the Playtech version. Here we go: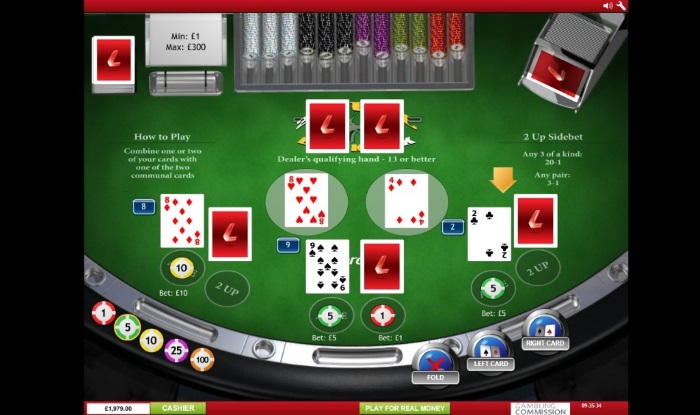 Topics Covered on This Page
Top Casino for Dec 2023
License:

Up to Date

Verified:

YES

Support:

Within 2 hours
Experts' Reviews
1.The game is played with six decks of cards and you can play up to three hands simultaneously, all independent of each other.
2.You start by placing an 'Ante' bet and an optional 2 Up side bet (scroll down to 7.). Keep in mind that the amount of your Ante bet will later have to be matched if you wish to proceed and play out your hands, therefore it shouldn't be more than half of what you're willing to lose at a table in one round.
3.After placing your initial bets, each of your hands will be dealt two cards, one face up and one face down. The dealer will be dealt two cards, both face down (they would be 'aware' of the value of the first card). There will be two face up cards placed in the middle of the table which are deemed communal and both player and dealer can use.
4.At this point, you can assess whether you want to keep playing by combining you faceup card with one of the two communal cards, or fold and lose your ante bet. The game will ask you choose the communal card on the right or on the left. You do this consequentially for each hand starting from the far right. Picking a communal card automatically means that you are placing a second, so called Raise bet equal to the Ante bet.
5.From here, unless you are at 21 points already, you can stand or hit your face down card. The dealer then goes through the same decision-making using the two communal cards and they will either stand or hit, determined by very rigid house rules. The dealer follows a casino-set list of high-to-low- strength hands (list at bottom of the page) that tells them which of the two communal cards to play.
6.After the dealer's choice, all wins and losses are declared. If you hit and go over 21, you lose both your Ante and Raise bets. If the dealer hits and goes over 21, you win with 1:1 payout on both your bets. Otherwise, the hand with the higher point count wins. One exception to this: If the dealer's hand is less than 13, this means they haven't qualified and you automatically win, even with a weaker hand. In this case, you get a 1:1 payout on your Ante bet and push for your Raise bet. If both you and the dealer have the same points, this means push for both your bets.
7.The 2 Up side bet gives you the opportunity to put down a wager on whether your initial face up card will match to any of the communal cards. It pays out 20:1 for three cards of the same kind and 3:1 for a pair.
Top Casinos for 21 Duel Blackjack
CASINO
MIN DEPOSIT
MIN/MAX BET
BONUS
LIVE
RATING
VISIT
$10
$2/
$750
100% up to

$100

Yes

Review

VERIFIED

Visit
* 18+ New Casino customers only. Deposit min. 10$. Applies to first deposit to Casino only. Max. bonus 100$. 20x wagering (game weighting applies) on deposit and bonus to make the bonus balance withdrawable. Time limits and T&Cs apply. Gamble responsibly. www.begambleaware.org - Full Terms Apply
$25
$1/
$500

$7,777

Yes

Review

VERIFIED

Visit
$20
$2/
$750
100% up to

$800

Yes

Review

VERIFIED

Visit
Notable Differences to regular Blackjack:
All 21-point hands are equal, meaning that the famed Blackjack combo, say an Ace and a Jack, have no superiority over an 11 and a Queen, for instance.
Fold option feature (here you lose your whole initial wager, unlike standard Blackjack where you only lose half if you Surrender)
21 Duel Blackjack has an estimated RTP of 98,38% on the game, and 93,47% on the 2Up side bet.
21 Duel Blackjack Strategy
Use our online blackjack strategy guide for blackjack tips and tricks and various tools available to maximize your winnings. The 2Up side bet doesn't lend itself to strategy due to its pure luck nature, but the main game does! We recommend relying on 21 Duel Blackjack strategy charts developed specifically for this type of Blackjack which are stat-wise and tell you whether to pick the right or the left communal card, stand or hit with it, or fold, occasionally.
Alternatively, you could also play the way the house plays in choosing left or right cards to play. This list tells you what total score is better to hit or stand at than others:
21
20
19
11
10
9
18
17
Soft 16
Soft 15
Soft 14
Soft 13
Soft 12
8
7
6
5
12
13
14
15
16
4
21 Duel Blackjack Demo
21 Duel Blackjack has a great entertainment value as it allows you to make more than one strategic decisions and has fun twists integrated into the game rules. Once you have dedicated some time to familiarizing yourself with the 21 Duel Blackjack rules explained above, you can then go on and try the user-friendly Playtech demo online where you can have fun at no cost. When you're ready, you can give the house a run for their money on the real money version!